Allstate Insurance is Among all these insurance options, auto, home, and life insurance are the most sold; it also offers Landlord, Property, and Pet Insurance, but with certain limitations.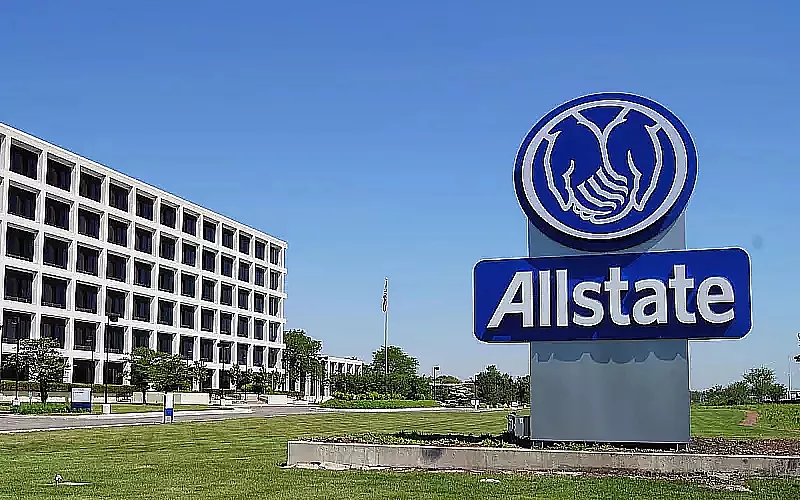 Allstate Insurance

Headquartered in Illinois, Allstate covers all 51 states and territories of the USA. Allstate has a total of 9339 locations across the country. It serves 2840 cities in the USA. Texas has the most significant number of Allstate locations, with 1046 locations. Almost 11% of the total Allstate locations are in Texas. However, Allstate's insurance products' coverage depends on your living state's laws. For example, UIM/UM (Uninsured/Underinsured) Motorist coverage of Allstate's auto insurance is available in specific conditions. You can get detailed information about the locations of Allstate throughout the country by visiting its official website.
CEO & Founder Thomas J. Wilson: twilson@allstate.com
What Type of Insurance is Allstate
All state offers a wide range of insurance products, including:
Auto/Car Insurance
Home Insurance
Life Insurance
Renters Insurance
Condo Insurance
RV Insurance
Business Insurance
Bike Insurance
Auto, home, and life insurance are the most sold among all these options. Allstate also offers Landlord, Property, and Pet Insurance, but with certain limitations. All insurance products of Allstate come with great coverage flexibilities and rider options. Customers can choose the best insurance policy that meets their specific coverage needs and budget.
Does Allstate offer service line coverage?
Service line coverage refers to an endorsement that you can add to your home insurance policy to cover repairing or replacement costs incurred due to a broken utility line that supplies a service to your home. Allstate doesn't offer service line coverage as a part of a standard home insurance policy. It sells this coverage as additional coverage or rider. So, if you want to add service line coverage to your home insurance policy, you will have to pay extra. Service line coverage covers certain damages to the utility lines running into your home. Common injuries that are covered under service line coverage include:
Wear and tear
Collapse
Rust
Corrosion
Decay
Mechanical breakdown
Deterioration
Electrical Breakdown
The average cost of service line coverage can be around $30 to $40 per year. You will have to pay about $4 monthly to get the service line coverage rider on your homeowner's insurance policy.
How much does Allstate insurance cost?
The cost of Allstate insurance depends on what insurance product you want to buy. For example, a full-coverage Allstate car insurance policy can cost you around $2438 a year. However, if you purchase car insurance with basic coverage, you may expect to pay about $558 a year. These are the average costs of car insurance that are collected by considering standard circumstances. The actual cost of Allstate car insurance depends on a wide range of factors, such as your car's age, driving experience, geographical location, coverage level & limits, and deductibles. Similarly, if you buy a homeowners insurance policy from Allstate, you may expect to pay $181 a month. Allstate homeowners insurance costs depend on factors like your coverage level, age of home, geographical location, and claim history.
What is Allstate Drivewise?
Drivewise is a digital discount program launched by Allstate that rewards drivers for safe driving behaviors. It has a multifunctional digital dashboard that measures how drivers are driving. If you have bought car insurance from Allstate, you can participate in the Drivewise program and get a discount on your premium by driving safely. Drivewise helps safe drivers save up to 40% on their premiums. It's available in the Allstate mobile app. Getting discounts through Drivewise is simple; the safer you drive, the more your earn. Some notable features of Drivewise are:
Dashboard
Driving Insights
Cash Detection
Phone activity
My trips
My challenges
Does Allstate Have Whole Life Insurance?
Allstate offers a whole life insurance policy through it's available with customization and optional to meet the needs of the policy holder.

What are the benefits of life insurance at Allstate?
The many benefits of having life insurance with Allstate:
– Income replacement for years of lost salary.
– Paying off your home mortgage.
– Paying off other debts, such as car loans, credit cards, and student loans.
– Providing funds for your kids' college education.
– Helping with other obligations.
What Does Allstate Accident Insurance Cover?
Allstate is one of the most renowned insurance companies in the US and offers coverage for a wide range of insured drivers.
The cost of medical care for a fracture, a cut, or another accidental injury shouldn't break the bank. Along with existing primary medical insurance, accident insurance ensures the victim gets the best care as it takes care of the medical bills.
This additional security can alleviate financial concerns, allowing everyone to concentrate on getting better.
The following are typically covered under Allstate Accident Insurance:
Inpatient stays
Emergency rooms services
Acute therapy
Paramedic services
Bone fractures
Physical therapy
The unique feature of Allstate accident insurance is that benefits are paid directly to the insured, not to physicians or medical facilities.
The money paid is usable for travel, medical expenses, or deductibles. You can use these benefits to pay for regular costs like rent or a mortgage, utilities, child care, or groceries. This is a massive relief for those who are hurt and unable to work.
In a nutshell, Allstate Accident Insurance aims to safeguard customers' finances against the unpredictable—and costly—slips and falls of life.
Does Allstate Have Accident Forgiveness?
Allstate has an accident forgiveness option for all auto insurance customers.
Allstate accident forgiveness is one of the service options that Allstate offers to enhance the value of their customers' Allstate auto insurance coverage. With this option, your rates or insurance premium will not increase regardless of who was at fault for the collision.
Speak with your local agent to learn more about accident forgiveness and to determine if it's a good fit for you.
Does Allstate Cover Other Drivers?
If you've listed other drivers on your policy or anyone else you permit to drive your car, Allstate will cover them. But there is a need for you and the other drivers to share the same home address.
For example, if a sibling, another family member, a close friend, or someone else is moving in with you, consider adding them as a driver on your auto insurance policy if they will be using the automobiles you insure.
You cannot get coverage for a non-relative driver who does not reside in your home, even if you add them to your insurance policy.
If you add a new driver to your policy, your auto insurance rates may change. The other drivers' driving history, gender, and age are just a few variables that may affect your insurance rates.
How Much is Allstate Car Insurance?
Allstate auto insurance rates vary depending on several criteria, though they often cost more than the national average. The cost of auto insurance with Allstate is determined by several variables, including age, state, coverage limitations, and a driver's driving record.
For example, the cost of full coverage for a married driver in the US in their mid-thirties with good credit and a clean driving record ranges from $154 to $174 per month or $2,045 to $2,088 annually.
Consulting with a licensed local insurance agent is the best way to determine the cost of Allstate auto insurance based on the abovementioned factors. You can also request quotes online from the Allstate insurance official website.
There is no waiting period for Allstate accident insurance coverage to start, and premiums may be paid quickly through payroll deduction.
Again, benefits are disbursed without restriction to the covered person immediately. As long as Allstate Benefits receives premium payments, coverage can be maintained. The benefits are paid by a pre-established payment schedule for official diagnoses and procedures after people with this coverage submit claims after receiving treatment or a diagnosis.
Allstate Insurance Agents in Buford, GA
To make things easy for the following directory as a helpful resource for Buford clients, Allstate put
-Henry Meadows,
1400 Buford HWY, Ste K6
Buford, GA 30518 – 770 400-9262 Email Agent
-HT Agency Inc
2675 Mall of GA Blvd, Ste 103
Buford, GA 30519 – 770 932-9395 Email Agent
-Read Nix
4305 S Lee St, Ste 400
Buford, GA 30518 Email Agent
-Adam Kelly
3280 MC ever Rd
Buford, GA 30518

678 288-0155 Email Agent
-Kirsty McCallan
480 383-7542 Email Agent
-Matthew Greene
1400 Buford Hwy, Ste K6
Buford, GA 30518
770 400 9262 Email Agent
Allstate Insurance Riverton WY, GA
William Brown
106 N 3rd STE, Ste A
Riverton, WY 82501
Call 307 856-6573 to quote by phone
Monday To Friday 8, 30 AM – 5, 30 PM
Saturday By Appointment
Sunday Closed
Allstate Insurance Agents in Chapel Hill, NC
Allstate directory Agents in Chapel Hill, NC are as follows
-Ben Reece
112 Perkins Dr, Ste 600
Chapel Hill, NC 27514

919 929-6900 Email Agent
-James Dallesandro
50211 Governors Dr
Chapel Hill, NC 27517

919 205-3262 Email Agent
-Scott Clawson
1525 E Franklin St, Ste 5a
Chapel Hill, NC 27514
919 929-1000 Email Agent
-Lee McPherson
112 Perkins Dr, Ste 600
Chapel Hill, NC 27594
Allstate Insurance Valparaiso Indiana
Allstate Insurance Agents in Valparaiso Indiana
-Trish Geyer
402 Wall St, Ste 61
Valparaiso, IN 46383
-Kevin Symons
344 WUS Highway 30, Ste E
Valparaiso, IN 46385
219 379-5101 Email Agent
-Bob Burkus-Valparaiso, IN Yelp
570 Vale Park Rd. Ste C Valparaiso
IN 46385, Directions
219 462-4038
-Joseph Finelli,
709 Sihavy Rd
Valparaiso, IN 46383
-Snyder Insurance Agency
219 262-0839
361 W Main St. Westville, INS
What is the NAIC for Allstate Car Insurance
As a definition, the NAIC is a unique five-digit identification number provided to every insurer for licensing purposes. The NAIC for Allstate
Insurance Group is 19232, as an insured you can use the NAIC to verify the company's financial data as well as the fraud cases and the closed and open complaints against the company in the past.
All State Insurance Rewards
To encourage drivers for their everyday safe driving, Allstate put a rewards
the program that depends on earning points daily which are redeemable on daily
deals also as an insured at Allstate, it is your right to get in and share the rewards
program by doing the following:
-Sign up for Drive wise program or purchase a Mile wise policy with 10000 points
-Visit Allstate Rewards.com and activate your account,5000 points Recurring Safe Driving Challenges
-200 points for 10 trips without high speed or sudden braking
-200 points for driving 3 consecutive days without sudden braking
-200 points for driving 3 consecutive days without high speed You can earn points even without driving activities such as Redeeming promo codes from the Allstate Rewards email Surveys
and promo codes from Allstate mobile app More and more rewards you can get, just by visiting our site to look for new promotions.
Allstate Insurance Safford AZ
For Technical Issues, Contact Chief Technology Officers:
Chris Gates at chris.gates@allstate.com
Report a claim; for Allstate insurance claims, email and Phone number, check our Claims and Payments.